Cosmo's Steamy Sex Games: Review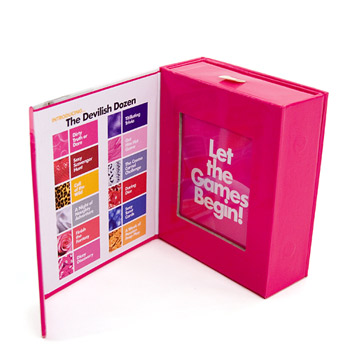 Since i did such a good job of reviewing their Melt chocolate paint, Eden Fantasy's, (a couples toy store) sent me another product to try in return for my honest opinion. I am not being paid to write this. This product was a game from the Cosmo range, so i was particularly excited to try it.

What's in the box:

The box consists of 12 separate card games (118 cards in total). The box, though a little smaller than i imagined is well made and neat. The cards themselves are nicely designed and are printed on nice, glossy card.

The card games range from Sexy Scavenger Hunt to Dirty Truth or Dare, each game aiming to help you and your partner get the passion flowing.


The Games:
Each game has a different aim. There are some role playing games and some trivia games, all designed to help you turn up the heat in the bedroom.


Finish The Fantasy Game:
This one is for those couples who like using their imagination. Each card gives you the start of a steamy scenario and you have to finish off the fantasy.


An example from one of the cards:
"We're taking a hike through the woods when we come upon a totally secluded lake. The two of us have been walking for hours, and we're dirty and drenched with sweat. Nice! The sparkling water looks so cool and delicious, we're practically salivating. Then, as if on cue, we both tear off our clothes and dive in butt naked into the icy blue water..." I'm not entirely sure if you're supposed to turn the bedroom into an alpine paradise for this, or actually go hiking and pray you find a secluded lake, whatever floats your boat i guess. If you can play this game and still keep a straight face, you get my full admiration.


Call of the Wild: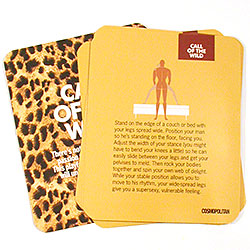 The Call of the wild game is like a mini Karma Sutra. Each card showing you different positions. If the pictures aren't telling enough, they have been kind enough to add instructions beneath each one. Some of them will include furniture so pick your props wisely, unless you want an embarrassing trip to A&E with splinters in rather delicate places.


Sexy Tarot Cards: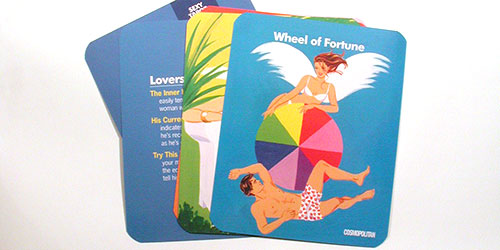 The idea is that you lay out the 12 cards and have your partner pick one to reveal 'The Inner Him'. This game is just a bit of fun. It isn't the most educational section in the deck and seems a little immature for an adult game.


Those are just a few of the games included.


The Verdict:
These card games would be good for a new couple looking to get to know each other a little better and discover each others' likes and dislikes. However for couples who have been together a long time, the games might come across a little predictable. In my opinion they are more of a novelty than a serious way to spice things up. The games are fun, and with a bottle of wine could be make for a great couples night in, but for long term couples, i think a bit of imagination would suffice.
Sharing is Good